It was a beautiful morning this morning when a group of MIC parents joined our Land Lab Manager, Andrew Maitland, on an interpretive Land Walk to see our beautiful natural environment. Located on 22 hectares (54 acres) of bushland, remnant rainforest, and waterways, our school is set amongst a biologically diverse landscape that hosts a broad range of flora and fauna and almost endless learning opportunities for our students.
The walk kicked off at the Travelink with Andrew showing parents some samples of Salvinia, a floating water weed that is becoming quite a pest in our dams. Community Work students in the Adolescent Community are working hard to rid our dams of this weed.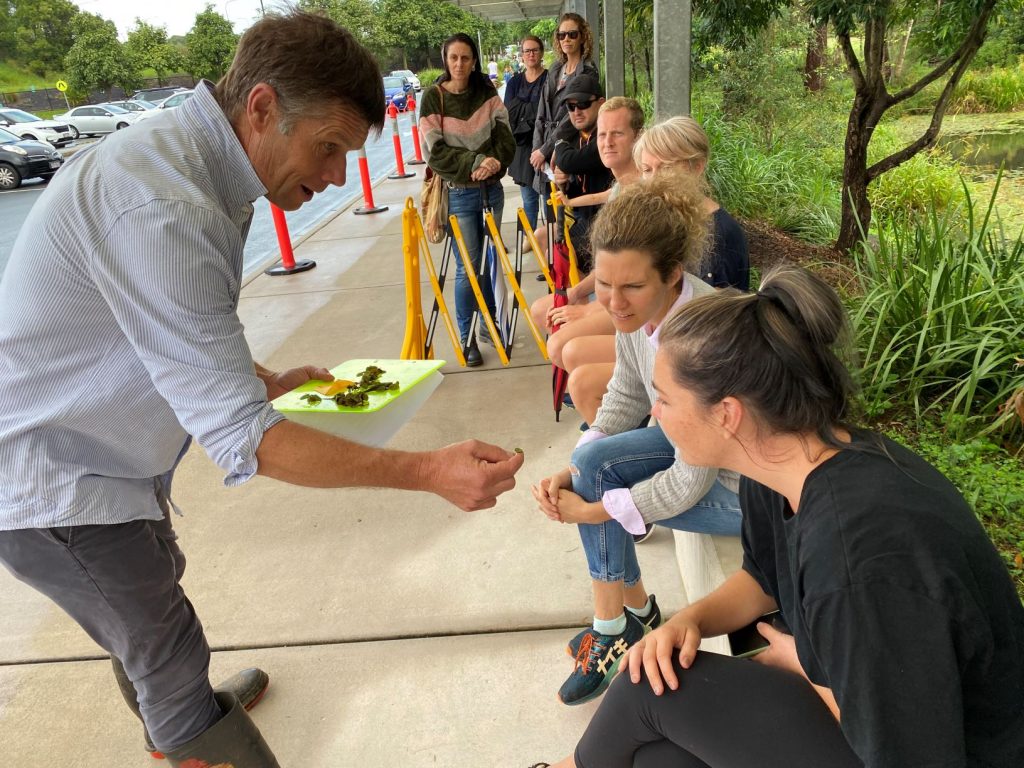 Our next stop was the path to the Adolescent Community where the group saw the Tree Shaping project our adolescent students have under way.
Next stop was to check out our Native Bee Hives. Andrew told the group that these stingless bees are always of great interest to our students – from our very youngest to our senior students. And while they do produce honey, it is a small proportion of our overall honey production as most of the honey we produce is from other hives on our campus.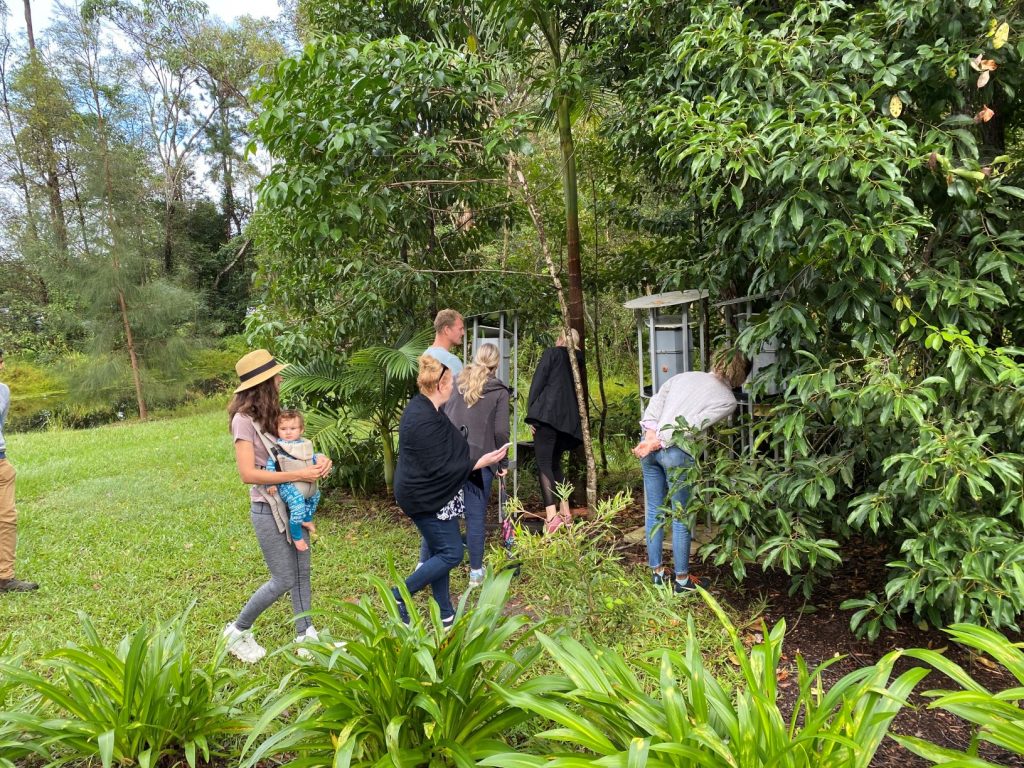 Our Banana Trees were next and Andrew explained that students have been developing a management plan for the clumps of bananas. They have cut out trunks and dug up pups to use elsewhere to help rejuvenate the overcrowded clumps. The bananas grown on-site are used in the kitchen to make banana smoothies and the Cooking and Baking Clubs and Teams group has been using them to make banana bread.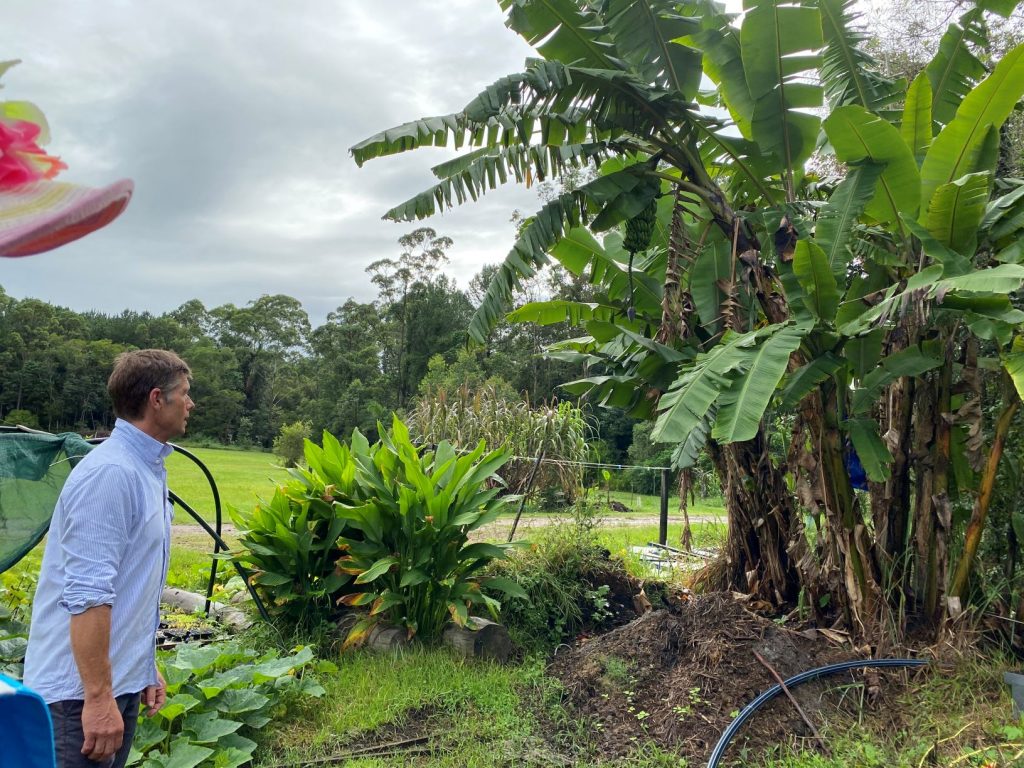 The parents then made there way past the Adolescent Oval and along the chorale with Andrew pointing out various tree species along the way, including a Soap Tree (Red Ash) and Guava as well as lemon myrtle and other plants that can be distilled to make essential oils.
The labyrinth was then the next stop where we heard that this had been an art project for students some time ago, and is now used by students at various school events.
The group then made its way into the rainforest and Andrew explained the flood mitigation plans in place given we are only several metres above sea level and we are also right alongside the Eudlo Creek. Students have built up plant beds to avoid flood waters and permaculture activities also require flood mitigation plans to be considered.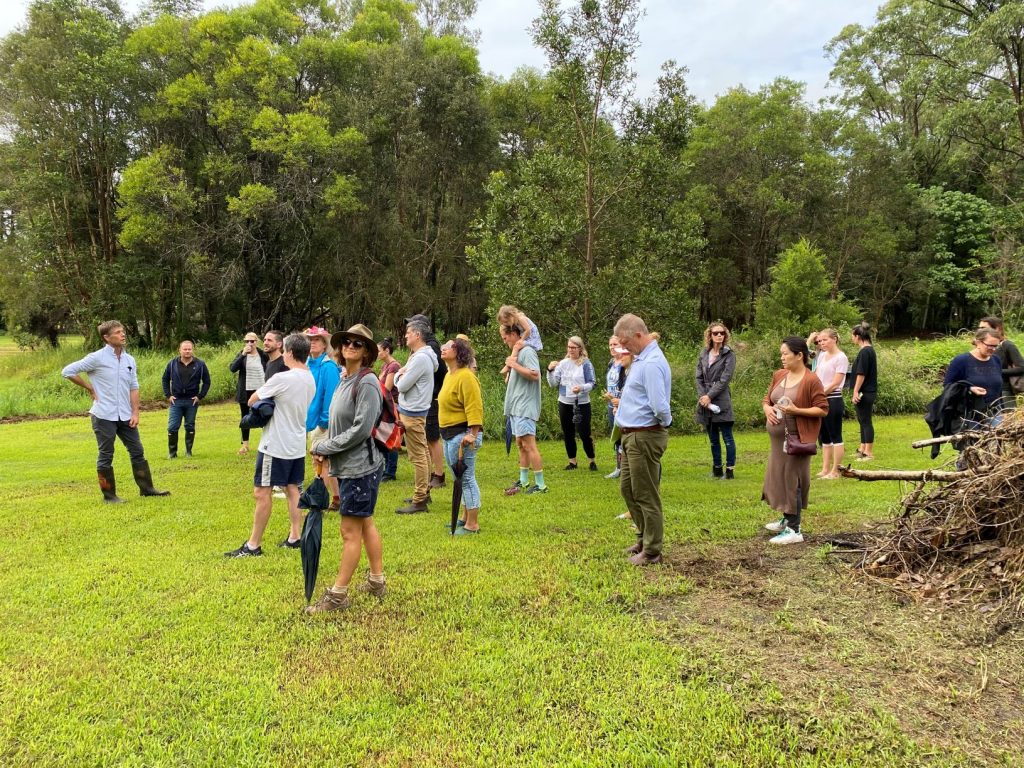 A highlight was definitely our visit to the 800-year old Scar Tree. Andrew explained that our local Gubbi Gubbi elders have advised that this tree was used to make a large canoe many years ago. The only reason it hasn't been cut down by loggers since then is that the tree is crooked – all of the straight trees in the area are long gone.
The final section of our walk took us past the Koala Forest – where we are growing eucalyptus trees for use by Koala Crusaders as fodder in their koala hospital. This project was initiated by several of our senior primary students two years ago. We also saw a series of small fire pits which had been created by our Senior Primary students last year as part of their Australian History studies.
Andrew's walk brought the group past the Senior Primary playground and our Handmade Early Man Hut before returning back to the Roundhouse where he continued to answer questions from parents.
Everyone had a fabulous morning and we look forward to more of these fabulous and informative walks in the coming months!