One of our key projects for 2020 was the development of a new Outdoor Learning Environment in the central "courtyard" area of our Roundhouse building.
An extension of the inside space, the Outdoor Learning Environment is a carefully prepared environment that is available to students throughout the day and allows opportunities for purposeful movement, independence, quiet reflection and observing – as well as exercise and the development of gross motor skills and the senses, all while outside in the fresh air and sunshine.
While it was necessary to pause this project for a period last year due to more pressing priorities arising from COVID-19, it was completed over the Christmas holiday break and is ready to be enjoyed by the Early Years children.
The new Outdoor Learning Environment provides for experiences that:
are fun and enjoyable allowing for imagination, freedom of choice and creativity
are inclusive while also being physically challenging and stimulating, helping develop control and coordination
allow for both group and individual play and the development of social and emotional skills through role modelling, communication, teamwork and developing relationships
encourage discovery and exploration and engage all of the senses
are safe, but not risk-averse
utilise natural materials and artworks relevant to 'place', in particular cultural stories and animals.
---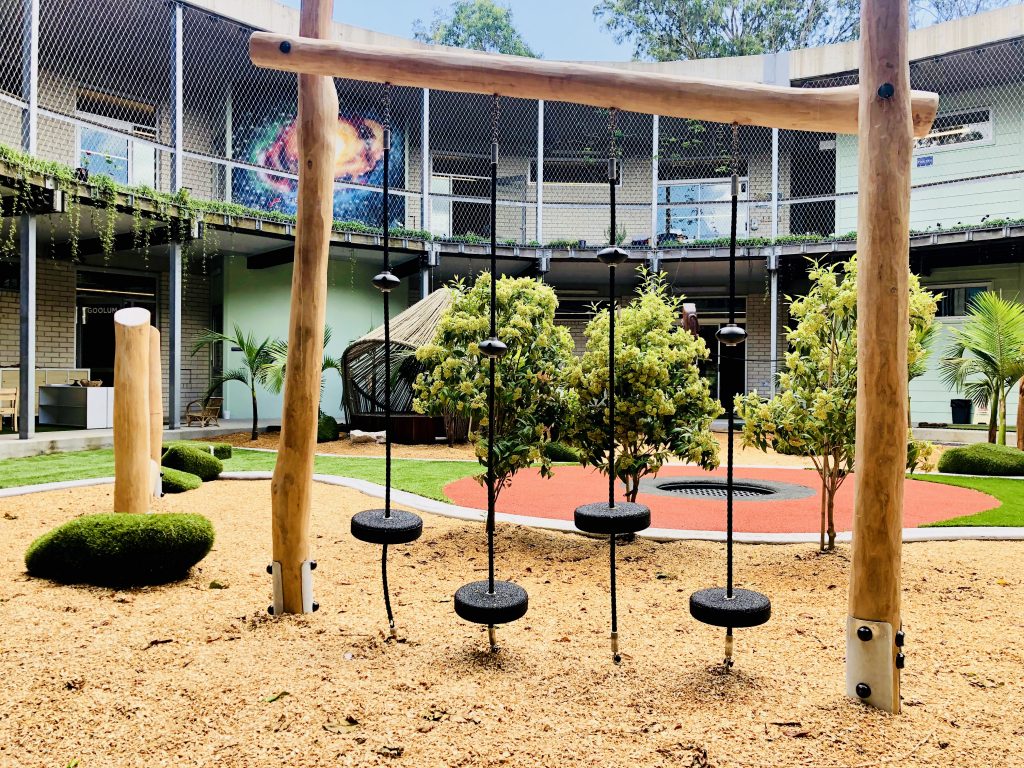 ---
Key features
A dynamic bar that challenges balance, coordinator and proprioception and trains vital muscle groups. It also provides opportunities for active and social play and is made from hand-carved timber creating a natural, custom design.
Balance poles which support coordination, balance and proprioception as well as improved posture and bone strength. Varied sections challenge navigation and planning and provide for obstacle course play.
Un up and over net which trains coordination and balance.
A circular jumper (or ground-level trampoline) to support vestibular, skeletal and cardiovascular systems and train balance and coordination. It is housed within a discrete ellipse for the 'Walk on the Line' practical life activity Dr Montessori developed to help support balance and equilibrium as well as to strengthen the mind's control of its body's movements.
A timber totem rope run which supports the senses of sight, touch and proprioception as well as balance and coordination.
A barefoot path, crazy sandstone blocks and synthetic turf provide varied, all-weather surfaces for sensory exploration, while palm trees provide shade, an arbour provides for growing plants with hanging chairs underneath for quiet reflection of reading and a Cloud Garden Deck and Artwork provides opportunities for children to experience outdoor art.