Rome is calling for our Montessori Model United Nations (MMUN) students with less than three months to go until they jet off overseas to participate in the conference in the Italian capital – a fitting location given Maria Montessori opened the first Montessori school there in 1907.
Designed for Montessori children around the world, MMUN is a United Nations program that embraces the teachings of Maria Montessori and the principle of preparing children for global citizenship.
Children learn to have a voice on global issues, and that they can make a difference, with an approach that encourages collaboration over competition and focuses on issues of global importance.
Eight MIC students are participating in MMUN for the first time this year and students are currently writing their position papers in preparation for the conference. Representing the countries of Ethiopia, Malaysia and Costa Rica, the topics being considered by students include:
rights of peoples to self-determination
elimination of racism, racial discrimination, xenophobia and related intolerance
protection of global climate for present and future generations of humankind
convention on biological diversity.
This is certainly Big Work for our Year 6 students and we are extremely fortunate to have someone in our MIC community who has direct experience in the UN process to provide assistance.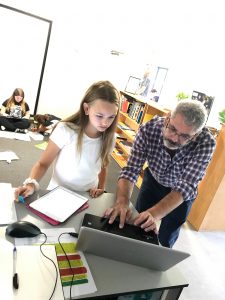 Jason Field is a member of our parent community – his son, Max, is a student in Bama.
A former Delegate to the United Nations Permanent Forum on Indigenous Issues – the UN's central coordinating body for matters relating to the concerns and rights of the world's 370 million indigenous peoples – Jason has attended many UN conferences in both New York and Geneva. He is bringing his extensive experience into our senior primary environment, holding weekly workshops with our MMUN students as they work to gather extra information in regards to the rights of people to self-determination.
Year 6 student, Ella Simkin, is currently writing her position paper on the Rights of People to Self-Determination in Ethiopia and this morning Jason was sharing with Ella a Human Rights Council paper on the problems, challenges and future trends related to this very topic.
We are grateful for Jason's ongoing support of our MMUN program and will continue to provide updates on our MMUN students' progress as they prepare for what will undoubtedly be a life-changing experience for all involved.
Related posts:
https://www.mic.qld.edu.au/were-off-to-rome-for-montessori-model-united-nations/