New MIC Mum Tara Rogers said she chose our College for her four-year-old daughter, Eloise, because each child is catered for at their own level.
Although choosing a school is a big decision for any parent, it was particularly tricky decision for Tara and her husband as Eloise has an extremely high IQ – in the top 2 per cent of the population.
"We always knew she was gifted – her memory is just astounding," said Tara.
"As parents we are very excited about this approach to education where our daughter can access materials at her level without the need to grade skip and her passions can be fostered."
Eloise started school for the first time this week and has joined our Early Years program in the Nawa environment.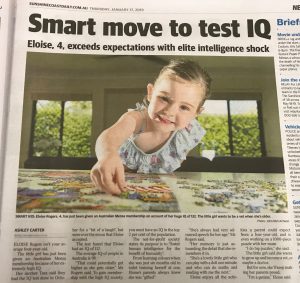 Supporting the individual passions and strengths of students is our specialty so we look forward to getting to know Eloise and welcome the Rogers family to the MIC community.
At MIC students enjoy a learner-friendly education and experience hands-on, multi-dimensional, broad-based learning with the support of a caring and inclusive community. Montessori education is structured so that children learn how to manage their own learning; how to identify good questions and find their own answers independently. Small by design, MIC is able to personalise, adapt and respond to students' needs with learning is diverse, cohesive and purposeful.
For more on the Montessori approach to education, visit the
What is Montessori
page of our website.