MIC – an IB World School
MIC is an IB World School. We offer the International Baccalaureate Career-related Program (IBCP) which is designed for students interested in pursuing a career-related education in the final two years of secondary school.
About the IB
The International Baccalaureate program was developed in 1968 and provides students with a curriculum and qualification that is recognised by universities around the world.
The IB program aims to develop learners who are inquirers, knowledgeable, thinkers, communicators, principled, open-minded, caring, risk-takers, balanced and reflective. These attributes are known as the IB Learner Profile.
This is reflected in the IB Mission Statement which is: "The International Baccalaureate® aims to develop inquiring, knowledgeable and caring young people who help to create a better and more peaceful world through intercultural understanding and respect."
Why have the IB program at MIC?
MIC has chosen to offer the International Baccalaureate as its core values and goals are in harmony with the Montessori philosophy.
Both educational philosophies promote:
method rather than content
individual inquiry
social and community behaviour
education for peace
child-centred approach
high expectations – "all children are capable"
self-discipline and integral sense of purpose
diversity leading to global perspectives
balance and harmony in the person
connections between learning areas
solid, hard and uninterrupted work.
The IB program challenges students to excel not only in their studies but also in their personal growth. As it provides for highly personalised, flexible learning it caters for all students. An IB education:
focuses on learners – IB programs are student-centred and promote healthy relationships, ethical responsibility and personal challenge
develops effective approaches to teaching and learning – IB programs are taught by teachers who help students to learn how to develop the attitudes and skills they need for both academic and personal success
works within global contexts – IB programs increase understanding of languages and cultures and explore globally significant ideas and issues
explores significant content – IB programs offer a curriculum that is broad and balanced, conceptual and connected.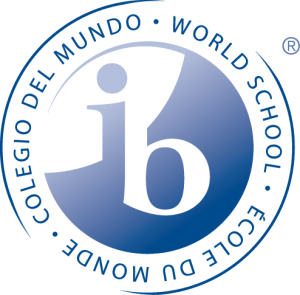 The IB Career-related Program
The IB Career-related Program (IBCP) is for students aged 16 to 19 and incorporates the educational principles, vision and learner profile of the IB into a unique program that specifically addresses the needs of students who wish to engage in career-related studies that prepare students to follow their chosen pathways in life.
The Career-related Program enables students to:
follow their chosen education and career pathways in life
combine academic subjects with their personal and professional interests and skills
engage in learning that makes a positive difference to their community
think critically and creatively
communicate clearly and effectively in a variety of situations
effectively work independently and in collaboration with others
consider new perspectives and other points of view
develop greater self-confidence and self-awareness
demonstrate high levels of resilience, flexibility and agility of mind
be internationally-minded and globally aware
apply their knowledge to real-world scenarios and situations.
At MIC we know the IB Career-related Program may not be the right course for everyone. We will work closely with students and families to shape the best course around their needs and passions. In some cases this may involve a hybrid program, incorporating elements of the IB combined with QCAA and vocational courses.
IBCP Subject Choices at MIC
The Career-related Program comprises three elements:
Academic subjects from the IB Diploma Program (at least two subjects)
IBCP Core Components (four core subjects completed by all students)
Career-related Studies (one of five streams with flexibility for students with special interests).
1. Academic Subjects from the IB Diploma Program
The IBCP requires students to complete a minimum of two IB Diploma Program subjects. Students at MIC should plan to study at least three Diploma Program subjects (maximum of five).
The IB Diploma Program subjects chosen should be relevant to the student's career-related studies so that academic and professional skills are developed together to provide a connected skillset relevant to a future career.
Language A: Language and Literature is a compulsory subject; Mathematics Studies is also strongly recommended but a six month Mathematics Foundation (non IB) course can be studied instead to fulfill Queensland Curriculum and Assessment Authority (QQCAA) requirements.
Numbers and combinations of subjects are dependent on the career-related study chosen, the capability and work ethic of the student, subject scores in year 10 and post-school career and study plans.
In 2019, MIC will offer the following IB Diploma subjects, with all subjects taught at the Standard Level (SL). These will be taught at MIC's Forest Glen campus.
Language A: Language and Literature
Sports Exercise and Health Science
Students may apply to study one online Pamoja course, by negotiation.
Example courses offered include:
Information Technology in a Global Society
Mandarin, French or Spanish Ab initio
2. IBCP Core Components
All students in the IBCP complete all four of the IBCP Core Components throughout the two year program.
Each student has a supervisor or coordinator allocated to them for each of their ICBCP Core Components. The supervisor/coordinator provides support and guidance throughout the two years of the IBCP and monitors student progress.
The four IBCP Core Components are:
Personal and Professional Skills
3. Career-related Studies
At MIC, staff work closely each student and their family to build a personalised Career-related Program related to their career interest. Career-related studies may include undertaking TAFE subjects, University of the Sunshine Coast HeadStart Program subjects, in-school traineeships or internships. Career-related studies will be different for each student.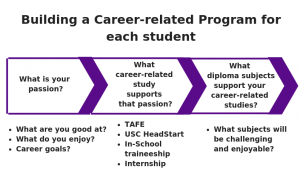 Example CP Program – Nursing
If a student had an interest in Nursing/Health Sciences, the following example program could be created which includes their academic subjects from the IB Diploma Program, the IBCP Core Components and their career-related studies.