It is with an understanding of a new Learning Village context from our Futures Visioning workshop in 2017, and a flexible approach to how this will look in the long term, that we reviewed our Master Plan for our Forest Glen campus.
The 2012 Master Plan, prepared by Dr Phillip Daffara (PlaceSense) was generated in an organisational culture of survival and it has already undergone a number of amendments since then.
Now we are clear that our vision for our campus is to become a mixed-use 'Village of Learners' and community hub, we have recently reviewed the Master Plan again so that it guides our development over the next 20- to 40-years, ensuring alignment with our vision while also being flexible enough that it will remain relevant for the next 100 years.
The plan allows for the incremental, organic growth of our school over the next 20 years, eventually culminating in an expected cohort of 850 students and more than 100 staff.
The Master Plan represents our long-term plan for development at our Forest Glen site. Existing buildings are depicted in the sand colour and new/future buildings are depicted in pink. A new, broad pedestrian boulevard is depicted in orange.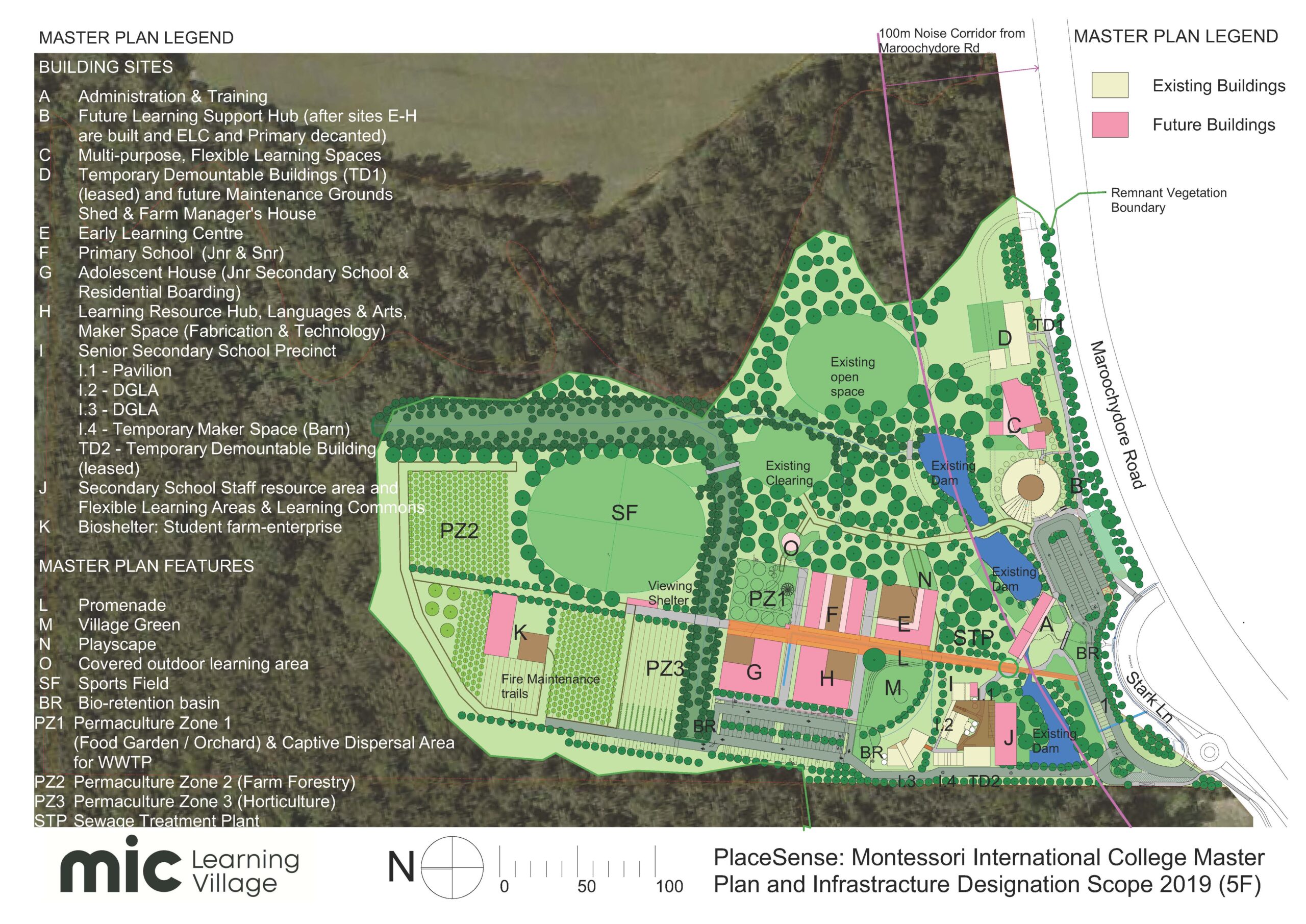 Key points of the Master Plan are:
Existing buildings
In the long-term (20+years) the Roundhouse building will become the College community's learning support hub. The building will be modified to provide a range of flexible learning support spaces for students with particular needs to enable various enrichment programs as well as spaces for visiting partners and artisans.
The temporary buildings currently being used for Senior Primary and the Adolescent Community will no longer be required.
Senior Phase will remain in the buildings they are in now.
New buildings
Our main campus will be shifted northwards (beyond where the Senior Phase is now) so that it is away from the traffic noise of Maroochydore Road.
A new building for Administration will be immediately adjacent to the front public car park, providing a 'gateway' for entry to the site.
The 'Learning Village' buildings will be in a compact, elevated form and interconnected to mitigate isolation during flood events and create a definable village. It will have a Village Square at its centre which will be used as a celebration space.
The Early Years, Junior Primary, Senior Primary and Adolescent Community buildings will form the 'hub' of the village and will be built on the far side of the current adolescent oval. The area of the oval closest to the Senior Phase buildings will remain as the Village Green.
Buildings for the Early Years and Primary College will be adjacent to each other (to encourage modelling) and raised above the ground to allow for flood inundation, creating a precinct on one level floor.
The Adolescent Community will be on the edge of the village, facing northwards to overlook the land and farm.
A Learning Resource Centre (Library) will be at the heart, overlooking the Village Square.
Green space
There will be a distinct 'Farm Precinct' to the north of the site providing opportunities for agri-business as well as food gardens, orchards, horticulture and farm forestry.
There will be a new separate sports field, further north along the Promenade past the village buildings.
Roads and car parking
A new road along the western edge of the site will have adjacent car parking along the western boundary and a new drop-off zone. This location ensures it doesn't divide the campus or interfere with pedestrians and has less visual impact.
Pedestrian movements
A 'central spine' Promenade for pedestrians will start near the Pavilion and stretch to the north past the Village Square and Village Green.
Process so far
2018: Draft Master Plan developed and provided to the MIC community for comment. Development Approval received.
Mid 2019: Community Consultation completed.
Mid 2020: Ministerial Infrastructure Designation granted.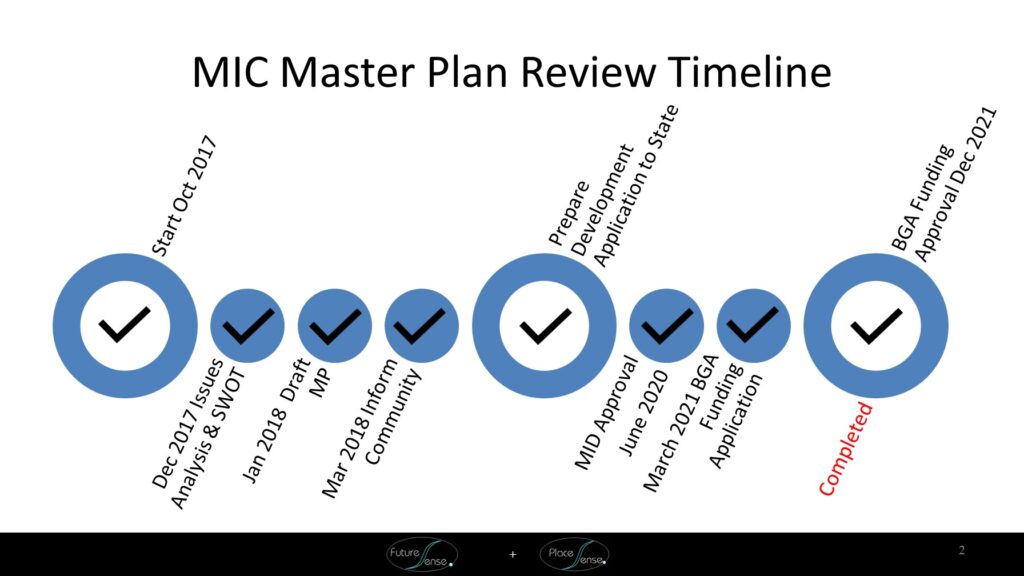 Next stages
Primary Learning Precinct Phase A (target completion: late 2023)
Phase A of the three-storey Primary Precinct includes Reception, Sick Bay, nine primary classrooms, one music room, one library/learing support/school counsellor room. Junior and Senior Primary students will move into the new Primary Hub.
Earthworks and Site Development for future Village of Learners (target completion: late 2023)
Stage 2 civil works include compensatory earthworks to create a flood-resilient building pad and new West Access Road, Carpark B and a second pickup/set down zone. Land Rehabilitation is also planned for new and existing stormwater draining channels and swales. The development of services includes water supply and fire services connection to the Unity Water mains, extension to electrical, lighting, communication conduits, internal sewer extensions and upgrade to the existing onsite wastewater treatment plant.
Stage 3 (Land Laboratory) – subject to BGA funding (target completion: late 2024)
MIC has applied for BGA funding to build a Land Laboratory for the Adolescent Community. This project includes an industrial arts room, an adjoining tool room with breakout verandas (outdoor learning area), an agricultural and environmental studies room, a science prep and cool room (for produce) with breakout verandas, and an adjoining covered outdoor learning area leading to a bio shelter/greenhouse and loading dock with verandas and amenities.